Late 15th century – German.
Bladed tools were staples of everyday life for millennia. Hunting, cooking, and everyday chores required the constant presence of a knife or dagger to hand, and this need did not vanish as civilization flourished. These needs ran parallel to the need for weapons of war, and blades of all sizes evolved to become utilitarian tools for daily activity, hunting, self-protection, and war.
The Messer has perhaps one of the most "honest" lineages of any European martial sword. Unlike double edged blades that had a complicated evolution dating back pre-Roman empire, the Messer evolved separately from the single-bladed belt knife. In this way of all swords the Messer most closely resembles its distant ancestors. Literally, the word "Messer" is German for "knife" – and so too are the various versions similarly named; "Langes Messer" (long knife), "Gross Messer" (great knife), and "Kriegsmesser" (war knife). While versions of the Messer (and other single-edged swords) existed back well into the Middle Ages it was during the Renaissance that the name and current versions emerged as common articles of both civilian and military life.
Arming soldiers was among the most expensive tasks of an army, and as such weapons that could be made cheaply and quickly were most popular. In essence a scaled-up belt knife, much easier for a smith to make en masse, Messers (and their distant Medieval cousin, the Falchion) were common features on battlefields – Kriegsmessers were wielded by the Landsknechte mercenaries, for instance. Especially in the 15th century and following when civilian defence became more important, these weapons were also brought into common use among the general population. For the less wealthy you might find simpler designs with straight guards and less ornamentation, easy even for a country smith to make; for nobles or other aristocratic wielders the Messers would be functional yet decorated, often with handsome guards and scabbard to illustrate the wealth of the bearer.
The Darksword Armory Messer is a true brute, made in the spirit of those Renaissance weapons. This design is made as much for utilitarian strength and durability as it was for battle. Created for pure cutting, the wide blade of this battle-ready sword provides exceptional slashing ability. This model is based on a 15th Century design and features a hefty 21" blade
with partial fuller and sharpened false edge along the spine back of the tip. Unlike other modern reproductions of the Messer design, it has a very attractive braided pommel and beautiful sculpted guard – clearly a version of the Messer that would look at home in noble hands. The distinctive riveted wood handle, canting away from the spine of the blade, completes the medieval sword's look. Balancing form and function, beauty and brutality, the Messer is a worthy descendant of every bladed tool that has passed through human hands. It will certainly live up to whatever use you will require it for.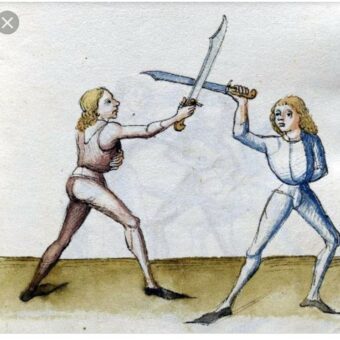 Customer feedback:
"What a great company! I ordered a messer for my son's birthday and the shipping was super fast, easy to track and the quality of the product was great! My email correspondence with them was always replied to in a timely fashion and they have gone above and beyond for me. Really appreciate a company that values their customers. Thanks so much!" – posted on our facebook page, Patricia P. SC, USA.
Blade: 5160 High Carbon Steel. Dual Tempered HRc 60
48-50 at the core
Total length: 29.5″
Blade length: 21″
Blade width at base: 2.52″
Weight: 3 lbs