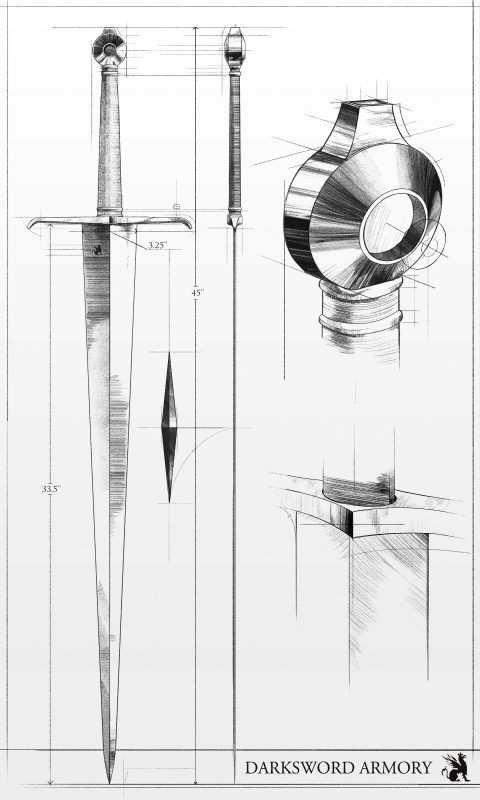 The number of historical relics that go missing and are never seen again is unknowable. Certainly, though, it is not a small number – though decay, through carelessness, through the loss of personal collections into estate sales and long term storage many artifacts of bygone days have vanished into obscurity. Finding one of these relics, recovering what was lost with virtually no trail, is incredibly rare – which is what makes the Alexandria sword, also known as the "Harriet Dean Sword," so unique.
In 1414, a peace treaty was brokered between the kingdom of Cyprus and the Sultan of Egypt. After the peace treaty (which ended a long and difficult conflict), the Cyprian King Janus made a gift of several swords to Sultan al-Mu´ayyad Shaykh. By the report of historians Sultan al-Mu´ayyad Shaykh was a humble man and a lover of architecture and scholarship, demolishing a prison and commissioning a mosque in its place as well as many religious monuments. The swords he received as a gift from King Janus of Cyprus were sent to the Arsenal at Alexandria, where a sizable collection of medieval arms and armor existed.
In 1904, medieval armor expert Bashford Dean founded the Metropolitan Museum of Art's Department of Arms and Armor. As a curator of this collection Dean went on numerous trips around the world to purchase relics, both for the Met exhibit and for his personal collection. One such visit brought him into contact with the Alexandria Arsenal in 1919, which even centuries later was in excellent condition due to Egypt's dry climate. Among the articles that returned with Dean were a matched pair of swords with an Arabic inscription indicating it was a gift of the Sultan to the Arsenal collection. Dean continued to expand both his and the Met's collection until his untimely death in 1928, at which time one of the matched pair of 15-th century longswords was bequeathed to the Met's collection (and became known as the "Bashford Dean Sword," while the other went to Dean's beloved sister Harriet Dean.
Harriet kept the sword until her death in 1943, at which point (like so many other relics of European history) vanished without a trace. For over 70 years the Harriet Dean Sword evaded capture, a white whale for so many curators and historians who hunted it for collections both public and private. The sword was thought lost, and became well known in academic circles despite its absence from the public eye. And lost is where it would have stayed, had an arms-and-armor expert working for an auction house not agreed to view a collection of weapons that was being consigned to an estate sale. There, in a small Texas restaurant, he was astonished to be staring at a picture of the Harriet Dean Sword, the last sword of the Alexandria Arsenal.
One of Darksword owner and founder's favorite sword, the Alexandria is truly a magnificent sword, honoring the original "Harriet Dean" longsword of the 15th Century. Its hallow-ground diamond cross-sectioned blade has a broad base and sharply tapered tip, making it both exquisitely balanced and suitable for splitting links of chain or probing gaps in plate armor. While designed primarily as a thrusting weapon like many renaissance longswords, it would also be highly effective at cutting targets. The leather wrapped oak grip is complimented by a robust tang, and the plain steel fittings and wheel pommel with peen block are typical of the Oakeshott Type XVIIIc. Many of the longsword manuals of that era, such as Fiore Dei Liberi's famous Flos Duellatorum ("The Flower of Battle"), were written for use with swords such as this.
Our latest renaissance longsword is an homage to the lost sword of Alexandria, a sword commissioned by a King, gifted to a Sultan, purchased by a curator, inherited by a sister, lost to time, and finally found again by a collector like so many of our customers. We invite you to hold this reflection of history in your hands. The blade is acid etched with the original inscription: (translation) "Donation of al-Malik al-Mu'ayyad Abu'l Nasr Shaykh for the Arsenal in the frontier town of Alexandria in the year 822" (1419 A.D.)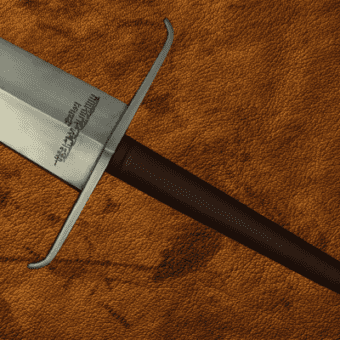 Specifications:
Blade: 5160 High Carbon Steel.
Dual Tempered HRc 60 / 48-50 at the core
Total length: 45″
Blade length: 33.5″
Width at base: 3 1/4″
Weight: 4lbs
POB: 4″
Historical engraving