The most common "how to" question sword collectors pose is categorically about sword maintenance. As such, we have written this brief overview to assist collectors protect their swords from rust corrosion and offer simple to follow tips to maintain their sword fittings and blades. It should first be noted however, that this blog article is written specifically for the maintenance of High Carbon Steel European swords. These guidelines should not be applied to Damascus steel swords or Katanas (Samurai Swords ).
Sword maintenance is not complicated. Cleaning your sword blade and fittings twice a year will suffice. This process takes 5 to 10 minutes and does not require any machinery.
This article is an easy to follow guide for the proper maintenance of your sword.
Proper Care of Your Sword Maintenance: 5 simple Tips
1- When it comes to swords, humidity plays a crucial factor. Ideally, you should store or display your sword collection in an environment that has about 30% humidity level to avoid rust or corrosion.
2- Avoid skin to blade contact. Such contact will leave oil and salt that will eventually corrode the blade.
3- Do not store your sword in its scabbard for extended periods (30 days or more). Scabbards are made of wood, wrapped in leather. The leather will trap moisture and will eventually corrode the blade if it is left in the scabbard for extended periods.
4- Clean your sword blade and fittings every 6 months if you are simply displaying your sword.
5- Clean and oil your blade after every use, whether used for reenactment combat, cutting tests, or simple training.
In cases when your swords have rust.
Two methods can be tapped to clean the rust off the steel: chemicals and abrasion cleaning.
Chemical cleaning is the simplest way to clean swords. With a quick application light to medium weight oil, such as gun care oils (RemOil or Ballistol), or regular sewing machine oil (found at WalMart). Once oiled, wipe the blade and fittings with a cotton cloth until the oil is no longer visible. This process will remove light rust and dirt.
Abrasion Cleaning: For light handling and humidity rust, Nev-R-Dull, a mild steel chemical cleaner, is recommended. This product will remove any light surface rust while polishing your blade and protecting it with a light coating of oil. For heavier rust imprints, we recommend using a fine sanding pad (180 grit) with oil. Note the direction of the grain on  your blade and fittings. Make sure to follow the direction of the grain as to not cause cross-scratching.
When restoring the blade, always start at the base of the blade; smoothly and continuously pushing the sanding pad towards the tip of the blade. This will ensure that you follow the grain of the blade and enhance your blade with a nice satin finish.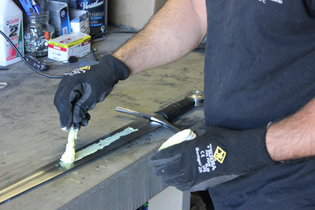 ---