Based on a German Main-gauche at the Royal Armouries, in Leeds, (1580-1620)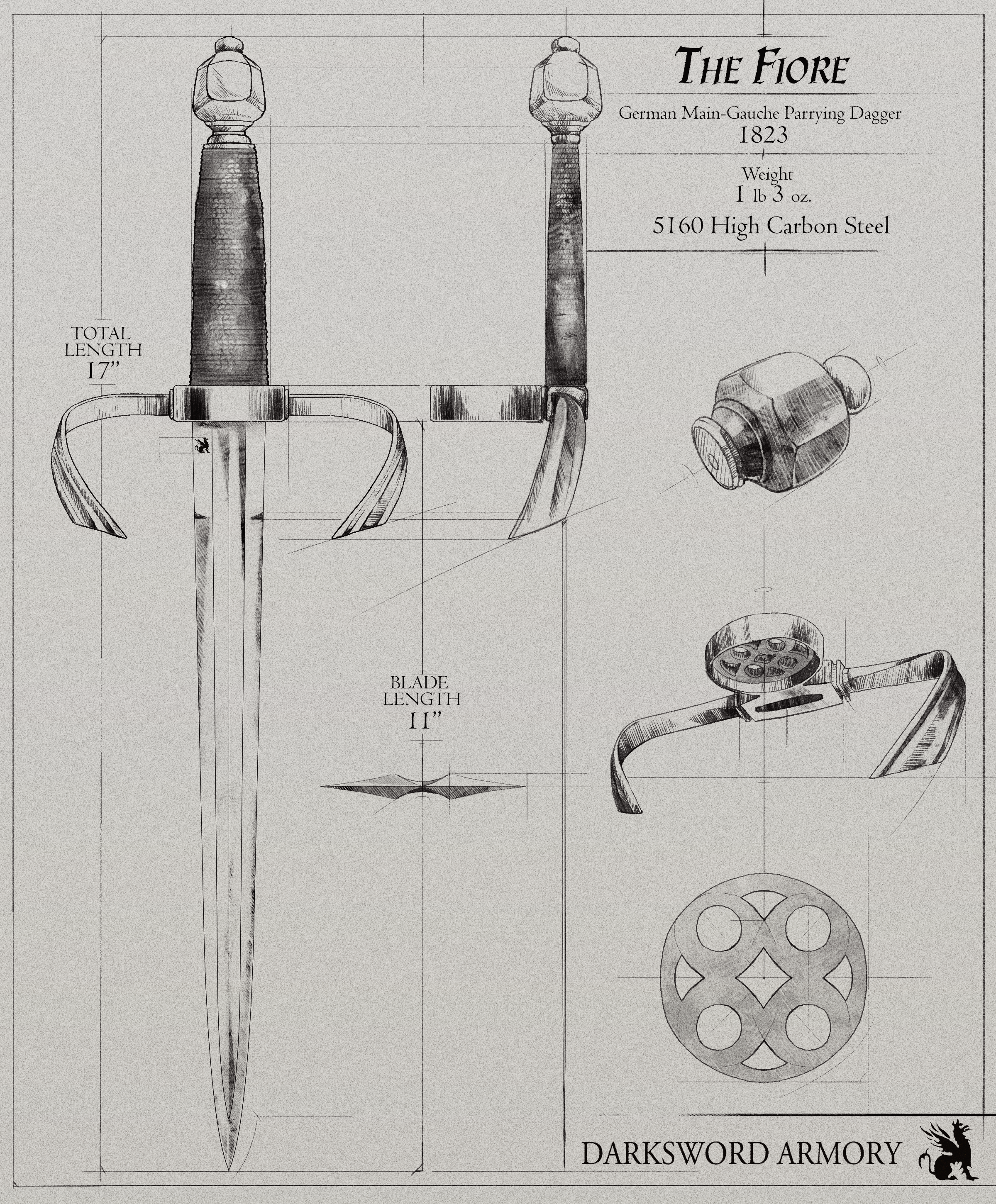 During the height of the Renaissance when swords had evolved from their heavier, slashing medieval ancestors into their cut-and-thrust oriented descendants, the two countries that produced the best fencing schools in the Renaissance world were Italy and Germany. It is unsurprising, therefore that one of the master swordsmen of this era availed himself of both traditions while he learned his craft, and passed on what he had learned in one of the oldest fencing manuals ever discovered. We are speaking of course of Fiore dei Libiri, author of Fior di Battaglia – The Flower of Battle.
Fiore was born in 1350 CE in the countryside of Northern Italy, a region known as Aquileia. A youth of noble birth, Fiore showed significant aptitude for all things martial in nature. From a young age he studied and trained in the art of the sword with fervor, seeking out masters of the German and Italian schools – a task made easier by his close location to the border of Germany. Sometime prior to the 1380's he had already made himself known as an expert in weaponry and battlecraft as he is reported to have been involved in military inspections and other matters during the Aquileian War of Succession. After this conflict ceased, he travelled and served as a teacher of the sword arts for decades, teaching pupils of the great Italian houses such as Giovannino da Baggio, Azzone di Castelbarco, and the famous mercenary Galeazzo Gonzaga of Mantua.
A prolific traveler, Fiore never made his home in one place for long. This may have been due to the fact that he was continually seeking out greater masters to train with – and sometimes, being frustrated in these efforts. By his own report Fiore encountered several so-called "masters" who he considered to have less skill than they should for his title. Fiore even dueled several of these men, never losing nor being injured in any of them. All the while he collected students and trained them in the arts, often preparing them for duels of their own.
Some time in the early 1400's, Fiore began writing his most famous work. Fior di Battaglia – "the Flower of Battle" – was an illuminated manuscript detailing all manner of combat techniques. Unarmed wrestling, unarmed combat vs an armed opponent, dagger fighting, sword and buckler, fighting in and out of armor, polearms, sword and dagger, and fighting on and off of horseback. Fiore's 49-page work was incredibly detailed, even complex, showing every point of a technique – including multiple counters for said technique. Each technique is paired with a series of illustrations giving the reader a visual representation of how they should execute the techniques and counters. Four surviving copies exist of this exquisite text, some with more pages than others, and each of them incredibly precious. Fiore completed other writings, including the much shorter Trattato della scherma ("Treatise on Fencing"),
but The Flower of Battle is what he was best known for. Fiore was one of the masters who inspired swordplay for generations to come, even to the era in which this parrying dagger was made.
In finding a name for our parrying dagger – based on a 1580-1620 CE German Main-gauche currently at the Royal Armouries, in Leeds – we could think of none better than Fiore dei Libiri. This parrying dagger has a slender blade with a short, blunt ricasso double fullers extending to the tip. The hexagonal pommel is similar to many such designs from the Renaissance period, matching many examples in museums and private collections. Like dueling weapons often had, we opted for a wire-wrapped grip most suitable for use with leather gloves when handling and practicing. The central feature of this design, though, is the swept-ring guard. Elegant and functional, this guard marks the Fiore as not only a dueling companion but as an important part of a noble's regalia. When paired with a rapier it would be a worthy companion and defender, and would also make a handsome decoration for a home office or mantlepiece. If you have no more room in your house for a sword, but might have room for a main gauche, consider adding the Fiore parrying dagger to your collection!
Blade: 5160 High Carbon Steel
Total length: 17″
Blade : 11″
weight: 1 lb 3 oz