After Baron Carlo (Charles) Marochetti (French, 1805-1867): Bronze equestrian figure of Emmanuel Philibert, 10th Duke of Savoy
provenance: Private collection, Paris France
Condition: Excellent
Length: 58cm high, 47cm wide/ 23 inches H, 18.5 inches W
cast by the Susse Frères foundry, Pairs, France.
a reduction of Baron Charles Marochetti's celebrated equestrian group of Emmanuel-Philibert, duc de Savoie (1528-1580) created for the Piazza San Carlo in Turin. A triumph of mid-19th-century historical sculpture, it is considered today to be Marochetti's masterpiece. Baron Marochetti lived from January 14th 1805 to December 29th 1867. He was an Italian-born French sculptor who worked in France, Italy and Britain. He completed many highly prized public sculptures, often in a neo-classical style and large equestrian monuments in bronze and marble. Some of his best known public monuments include the bronze equestrian statue of Richard the Lionheart in front of the House of Lords at the Palace of Westminster in London.
The sixteenth-century Italian hero in the very "act of sheathing his sword while reining in his charger" (Ward-Jackson). This was clearly intended to make a strong statement at the time of the Risogimento (the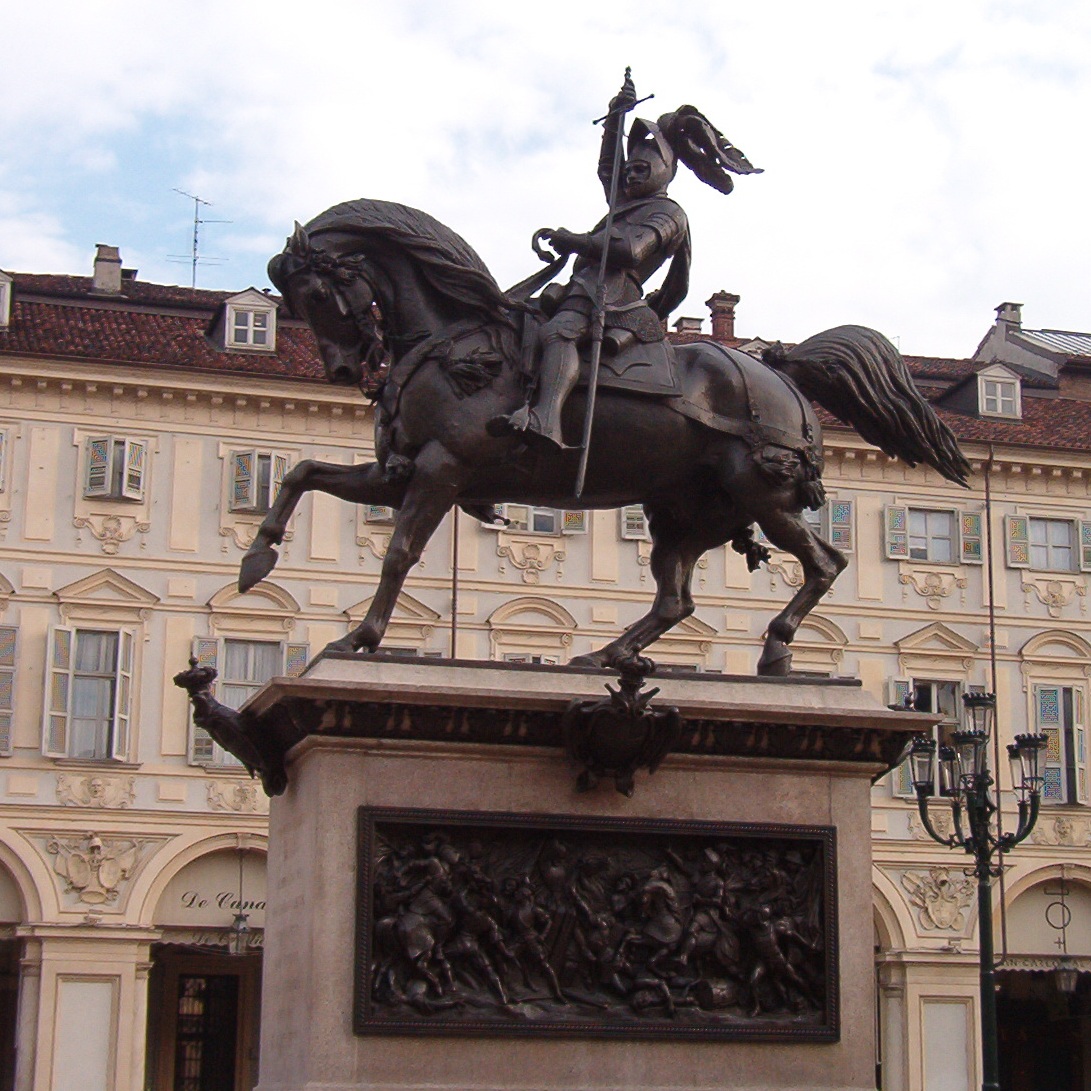 process by which the modern country of Italy was forged, which began with the ending of Napoleon's reign and the Congress of Vienna in 1815, and cemented with the Franco-Prussian War in 1870-71. , Marochetti exhibited the statue in the courtyard of the Louvre, where it came with immediate success, both with the general public and the connoisseurs. The former were pleased" by the fire and dash in the movement of the figure…; and the latter liked it because it had something of the medieval spirit. [Willard 134]
the statue catapulted Marochetti into the limelight in France. Commissioned by King Louis Philippe himself, the sculptor had already won several important public commissions there. But now he became more widely known, and reductions of this statue were permitted to a very select few foundries by Marochetti himself.
Signed Faugard après Marochetti to the upper edge and with indistinct Susse Feres foundry mark to the front, 58cm high, 47cm wide
Emmanuel Philibert, also known as Emmanuel Philibert of Savoy, served as the Duke of Savoy from 1553 to 1580, and later became the King of Sardinia from 1580 to 1581. He played a pivotal role in the history of Italy, particularly in the period of the Italian Wars during the 16th century.
During his time as Duke of Savoy, he was able to secure the alliance of the powerful Habsburgs through his marriage to Margaret of Austria. He also fought against the French army and was successful in capturing several territories that were previously lost to his kingdom.
Furthermore, Emmanuel Philibert commissioned the creation of the Palazzo Reale in Turin, which is a masterpiece of Baroque architecture and remains an important landmark of the city today.
Overall, Emmanuel Philibert's contributions to the political and cultural landscape of Italy during his reign were significant and he is remembered as one of the most important figures in the country's history.