Introducing a new project from Darksword Armory Owner Eyal Azerad – the Raven Chef Knife is a high end, Japanese inspired professional chef knife at an affordable price, Canadian-made with EN 1.4116 German Krupp steel!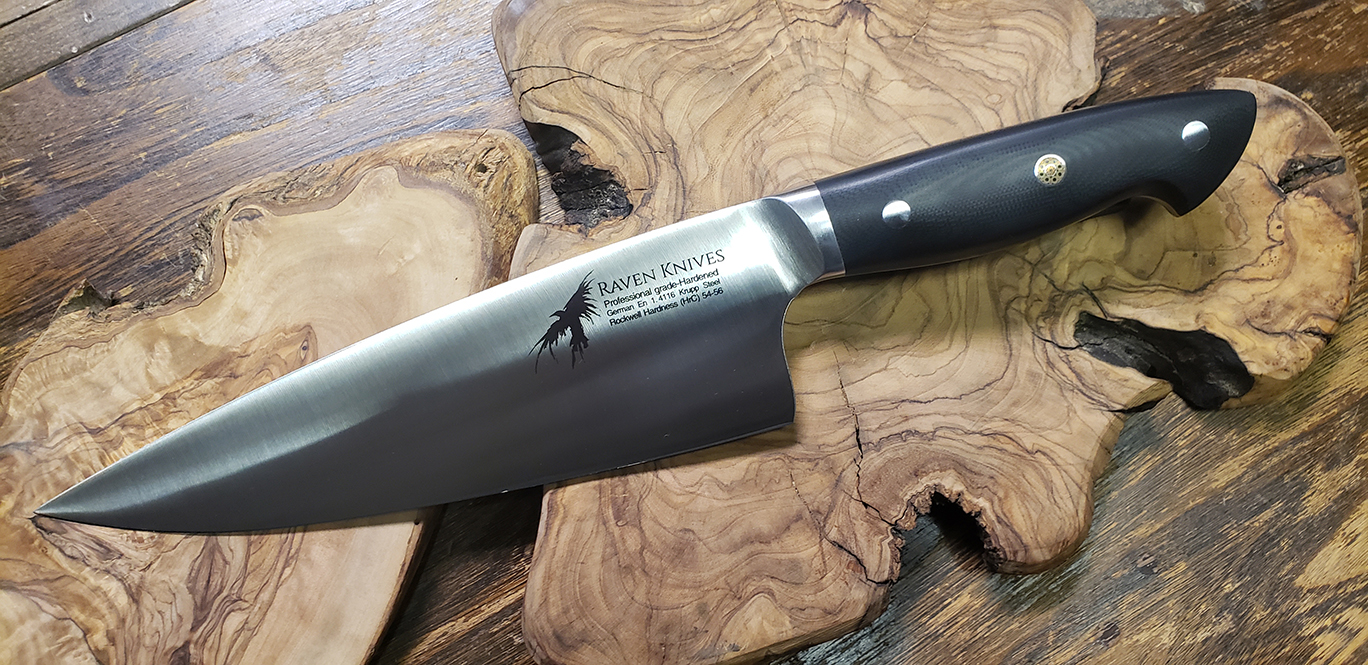 Pick up a professional Canadian-made chef knife everyone can afford! This traditional Japanese chef knife has been redesigned with more chopping and cutting clearance, with a newly designed bolster angle. This makes the Raven Knife much easier to handle, control and slice – with an ultra sharp-edge!
Capable of performing many delicate tasks, the Raven Knife is THE ESSENTIAL versatile chef knife that will replace the clutter of knives in modern kitchens. Our number one goal was to create an exceptional knife that will greatly improve user experience and get people back into the passion of cooking.
The hybrid design combines the best features of German and Japanese knives, allowing you to perform the most precise cut with ease, whether it is to slice, chop or mince. With a perfect balance and redesigned blade geometry and slopped bolster, the Raven Knife feels like a light, agile and comfortable extension of one's arm.
While designing the Raven Knife, we decided to change the edge angle from the traditional 25◦ degree edge angle to a 16◦ edge. The result is the creation of an exceptionally sharp knife, allowing clean cuts.
Better steel. Better edge. Better versatility.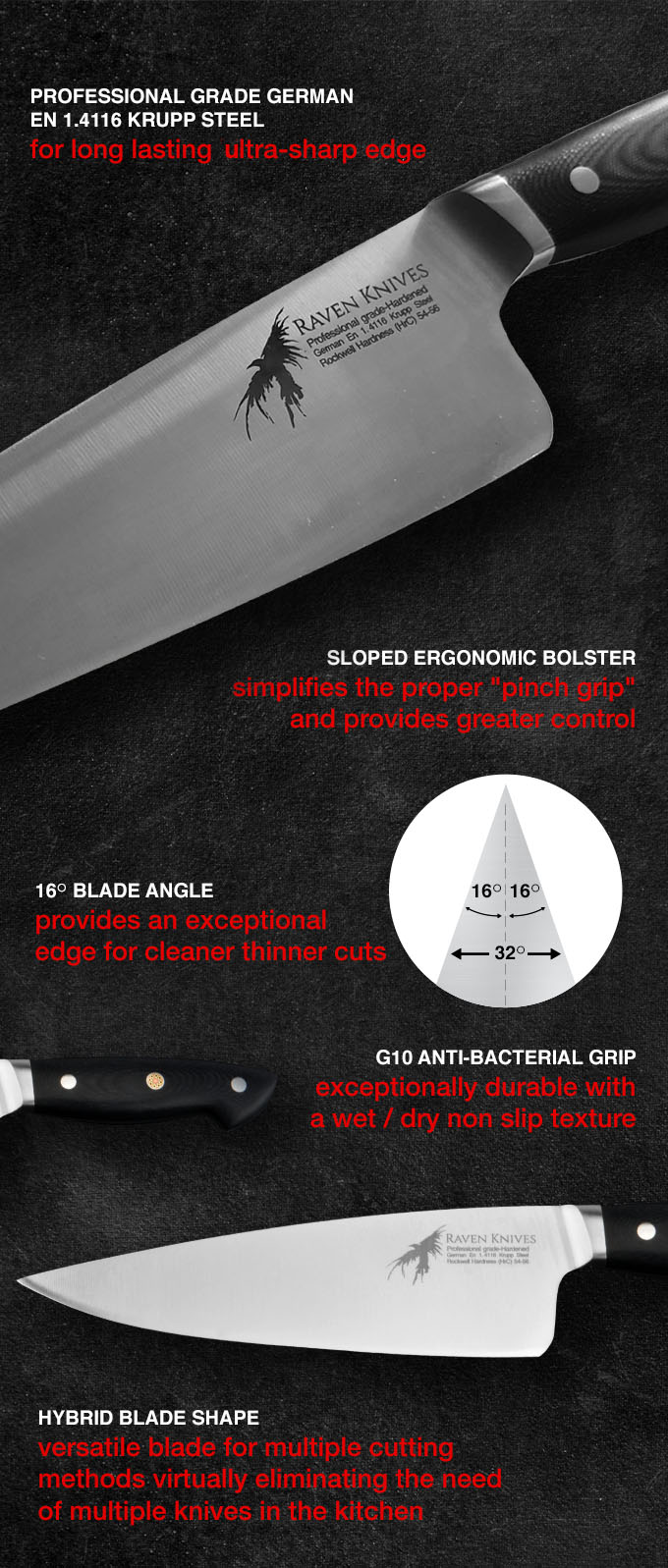 Creating the perfect component begins with choosing the right material.
With the premium EN 1.4116 German Krupp steel , Raven Knives will have a greater edge retention than the most expensive Japanese knives.
We sloped and angled the bolster to allow a graceful grip, even for the absolute beginner. As avid amateur cooks, we have sought the best grips, bolster angles, blade shapes and widths to allow anyone interested in the art of cooking to have a proper grip and hold. The sloped bolster tapers gradually from grip to blade, enabling a proper and comfortable pinch grip and therefore greater control while cooking.
Although quite comfortable during the prototyping stage, we decided to expand the clearance of the blade to allow the user greater range of motion regardless of the types of cutting (mincing, chopping, slicing or dicing). The raised blade provides more freedom from the limitations of traditional chef knives.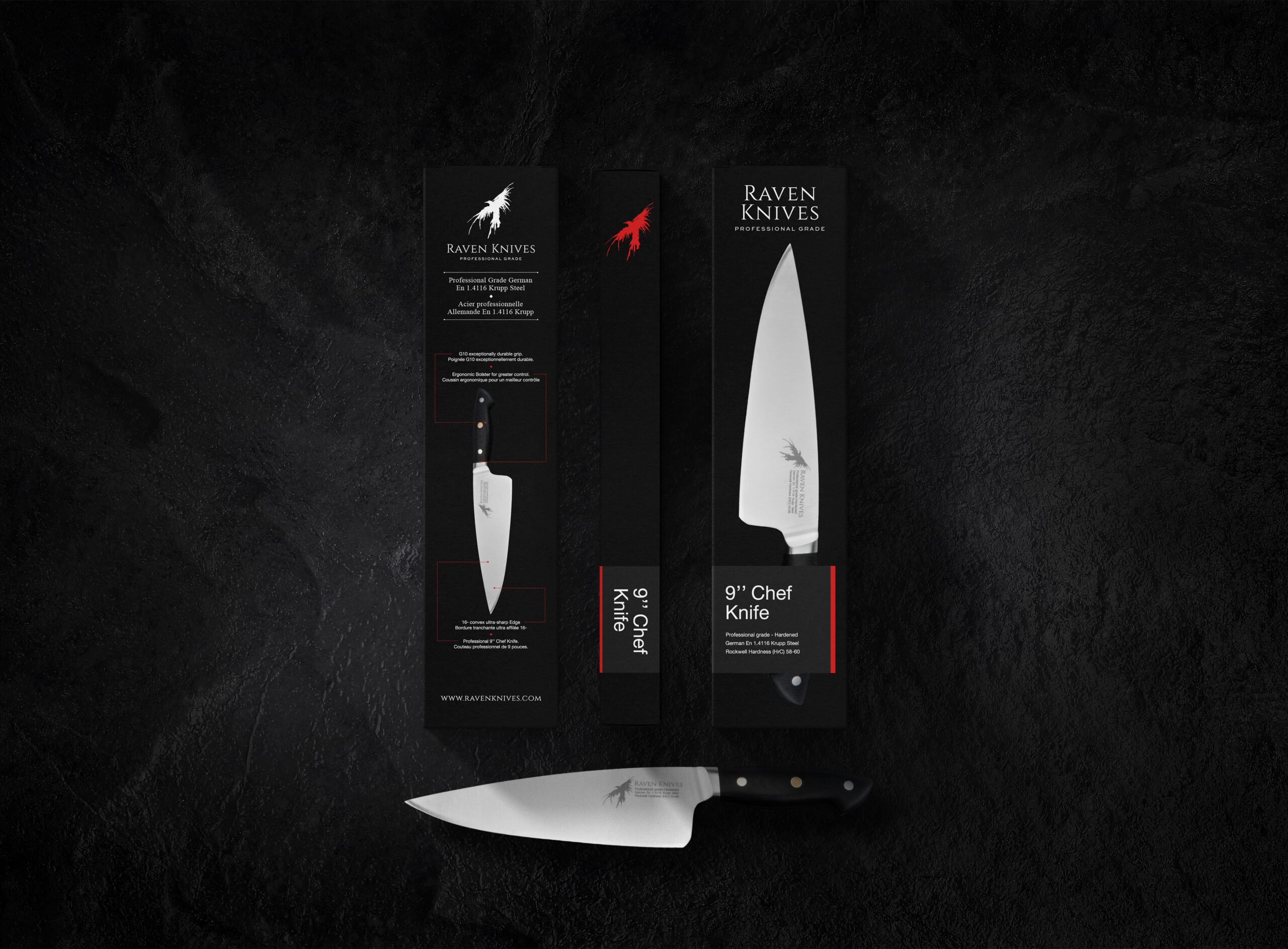 The Raven Knife can either be purchased as a unit (single knife) or with our signature Series magnetic knife block.
The magnetic knife block is made with 1″ thick super magnets set in Canadian maple stained wood. The double sided magnetic block can hold up to 8 large knives (4 on each side). The block weights 14 lbs. The super magnets will hold any knife very tightly to avoid any knife drops.