Of all the symbols used to represent the kingdom of England and the British empire, few are more iconic than the lion. A symbol of Bravery and valor, the lion has been associated with England since the time the 12th century. However, it's use as a symbol of nobility goes back to the late Norman nobility that accompanied William the Conqueror on his invasion of the British Isles. Thus, it is safe to conclude that the lion as a symbol for Britain's might and royal power has its origins in Normandy. This may seem unusual as the lion is not native to England, however as the kingdom of England Drew many of its Inspirations and symbolism from the Bible the frequent appearances of lions to represent the power and majesty of God (i.e. "The Lion of Judah") was a natural connection for the British to make.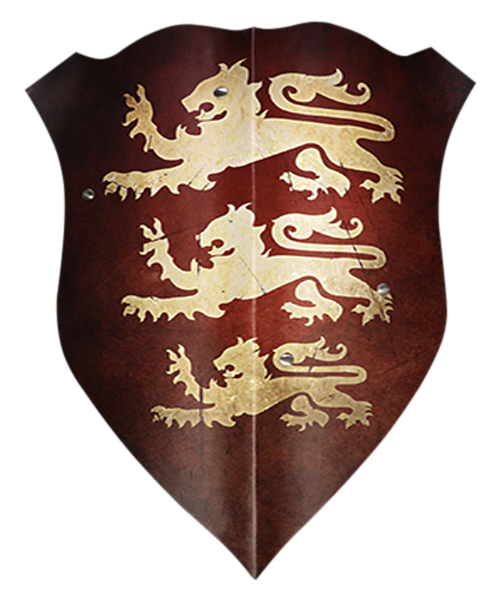 The earliest date when Lions became associated with the English Royal House is not precisely known. However, what is known is that no later than 1128 CE Henry I was granting badges to family depicting lions in a coat of arms. Members of the British Royal Family used lions in their heraldry, and according to some sources Henry II had two lions as His official emblem until his death in 1189. It would be Richard the Lionheart, though, who would first bear three lions on his personal coat of arms, on his shield, and on what would come to be known as the Great Seal of Richard I – three gold lions on a blood red field. This coat of arms would come to be associated with England so strongly that to this day this symbol appears on official English Royal seals and as the official Coat of Arms of the United Kingdom.
The Great Seal of Richard the Lionheart served as the inspiration for our Richard I shield. Three golden lions now grace this coat of arms, in a style known to heraldry experts as three lions passant guardant. This design would be instantly recognizable as being associated with the famous crusader king, and would be at home paired with any of our High Middle Ages one-handed arming swords.
.