Sale: Demo, has an older grip.
Relative condition: 8/10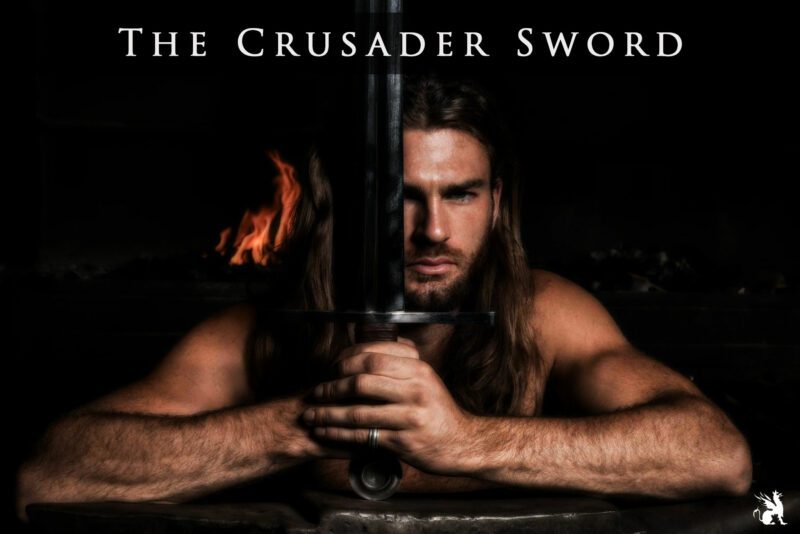 The First Crusade took place between 1096 and 1099. Led by the Roman Catholic church, under Pope Urban II, as a military expedition. The goal was to regain the holy lands lost to Muslims in the conquest of Levant (632-661 A.D.). The crusades started when Christians' access to Jerusalem was cut off by the Seljuk Turks after the defeat of the Byzantine army. What followed were a series of crusades that ran for nearly two centuries (1096-1272). The last being led by Edward I. With the influence of the Catholic church, all men at arms were bound to use the cruciform sword, with its symbolic cross section, forever historically tied to the imagery of the Crusading Knights. The cruciform guard was imposed by the church to remind all soldiers of their Christian religion and the 'greater' purpose of the war. Ultimately the crusades led to the mass slaughter, rape and devastation on both sides.
The Crusader sword, like many of its historical counterparts, is regarded as the quintessential sword of the crusading knight. Richly ceremonial due to its symbolic shape, the Cruciform swords of the Crusading period were designed with proportions of perfection of form and harmony. Some sources speak of "divine proportions"; a complex geometry which flowed to represent the harmony of nature. The formula of these 'proportions' were used to create 'golden triangles' and 'golden rectangles' which were commonly applied to architectural designs. In 'The Noble art of the Sword', Tobia Capwell wrote that the use of the 'divine proportions' led to the belief and acceptance that swords could have artistic merit beyond the notion of 'practicality'. Classically styled, the Crusader sword was designed with the 'proportions' in mind. The simple yet elegant sword, topped with the circular wheel pommel, was carefully fitted to a blade offering exceptional reflex, balance and control. The sword is responsive, quick, resilient yet flexible. The sword has a sharply tapered cut and thrust blade. When in hand, the sensation, is that of an extension of ones arm. Although minimalist, the crusader sword is of stunning complexity. The Crusader sword is made from 5160 High Carbon steel. Peened pommel and mild steel fittings. The wood handle is wrapped in high quality distressed cognac brown leather and stitched at the side.
Specifiactions:
| | |
| --- | --- |
| LENGTH | 34 3/4″ |
| HANDLE LENGTH | 4 1/2″ |
| BLADE LENGTH | 27 3/4″ |
| BLADE WIDTH | 2 1/16″ |
| CROSSGUARD LENGTH | 8 5/8″ |
| GUARD DEPTH | 7/8″ |
| HANDLE CIRCUMFERENCE | 4 1/4″ |
| WEIGHT | 2.65 LB |
| P.O.B (FROM TIP OF BLADE) | 23″ |
Darksword Armory
Average rating:
0 reviews