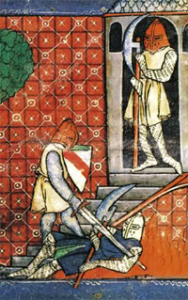 The bardiche was mainly used in Central and Eastern Europe. The bardiche appears in manuscripts dating back to 1200 across Europe, such as the Maintz Gospels and the Psalter-Hours of Guiluys de Boisleux. It was  derived from the Danish axe and farm implements such as the bill, which were converted into polearms for the battlefield. The bardiche was one of the shortest of the staff weapons, with a handle that was frequently only around 5′ long. Its blade, however, was one of the largest of the Medieval polearms, often over 2′ long.
While the mounted knight charged, the ground quaking as they charged on their war horses across the field, slamming into their enemy and forcing them into flight. At first the Medieval infantry had little more than farm implements to face this powerful attack – but over time these developed into devastating staff weapons called 'the bardiche'.
However, with the advent of plate armour, in many places the bardiche gave way to longer weapons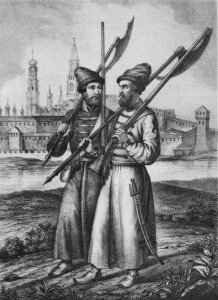 with more defined spikes, such as the Halberd. In Eastern European countries such as Russia and Poland, as well as places like Scotland, however, the use of the bardiche continued into the 17th century, becoming an infantry weapon on which a soldier could rest and aim his pistol.
This bardiche is similar to the weapons appearing in the 13th century illustrations of the Maintz Gospels and the Psalter-Hours of Guiluys de Boisleux. Its curved blade and shorter shaft is designed to strike with devastating force and accuracy against targets such as mailed knights and other infantry. The back of the blade is a smooth curve, making the weapon a deadly spear in the thrust. The shaft is 49 long, while the blade is 8 wide by 17 long.